Regaining confidence by restoring classic cars
When a mechanic at a mental health charity recommended contacting Hilsonic, the work undertaken by Rusty Road 2 Recovery seemed so worthwhile we were delighted to help.
Rusty Road 2 Recovery is a social enterprise, based in Somerset but with such a successful model that – since launching on Christmas Day last year – they've already been approached to open elsewhere in the UK as well as in Australia. The organisation works with people of all ages who suffer from mental health issues and the associated isolation and lack of confidence these can entail. They run a range of courses, including airbrushing and art, but the donation from Hilsonic is helping in one of the most fundamental areas of their work – recovery courses focused around the repair and restoration of classic cars, motorcycles and even tractors.
Helen Whittaker, recovery counsellor at Rusty Road 2 Recovery explains,
"Like a rusty old car these people are so often thrown on to the rust heap of life when in actual fact they have vast reserves of knowledge and skills they can offer the community. So, while they restore the car they restore confidence in themselves and learn that even with their mental health problems they can lead full lives."
Learning of the organisation's work, Hilsonic were so impressed that they organised the delivery of an ultrasonic cleaner at a much higher specification than Helen was expecting. Darren Pyke, managing director at Hilsonic, comments,
"We are always keen to support projects within the community wherever we can. It's rewarding for me, personally, to be able to offer Hilsonic's expertise in a way that exactly chimes with what their organisation is offering – where our ultrasonic products bring a direct benefit to people in difficulty. The idea of car restoration as a means to aid recovery is obviously helping participants take pride in themselves and their work, as well as bringing people together working with others and building trust, communication and a sense of purpose. We are very glad to be of help."
Darren continues,
"One aspect of Rusty Road 2 Recovery's work that really caught my imagination is their PIP Garage. If the average cost of work undertaken by a garage is £50 per hour, you can see that this is out of the reach of a lot of people suffering with mental health issues, disabilities or people who are elderly or on a low income. When Helen explained the PIP Garage to me, where people in receipt of PIP – Personal Independence Payment – or on a low income can access the Garage's services for £18.50 per hour, I could see how life-changing this must be for vulnerable people. So, we were more than happy to be able to add our ultrasonic unit to the range of tools and diagnostic equipment available to the mechanics there."
The ultrasonic unit donated by Hilsonic is benefitting both the participants in the restoration programme as well as the mechanics in the PIP Garage, and is particularly effective at cleaning carburettors, cylinder heads, brake cylinders, throttle bodies, transmission valve bodies, manifolds, alternators, engine blocks and wheels. Older engines are particularly prone to carbon build up which reduces the airflow and leads to running problems and, if layers of burnt oil are present as well, it is both difficult and time-consuming to clean the parts. Ultrasonic cleaning – based on cavitation – allows for car parts to be cleaned without recourse to the harsh, dangerous chemical traditionally used, which is better for the environment, means that the mechanics at the PIP Garage can work more efficiently, and frees up more time for Rusty Road 2 Recovery's clients to focus their time on the more enriching and meaningful areas of the recovery programme.
Helen adds,
"Our ethos is to never judge and to help everyone who comes through our door even if we have to tailor make a package for them. Our first restoration project is now well under way and we have one chap on it who has returned to part time work already and another who now volunteers with us after thinking he'd never be able to get back to any kind of work. It is through the generosity of companies like Hilsonic that we are able to move forward so early on in our life."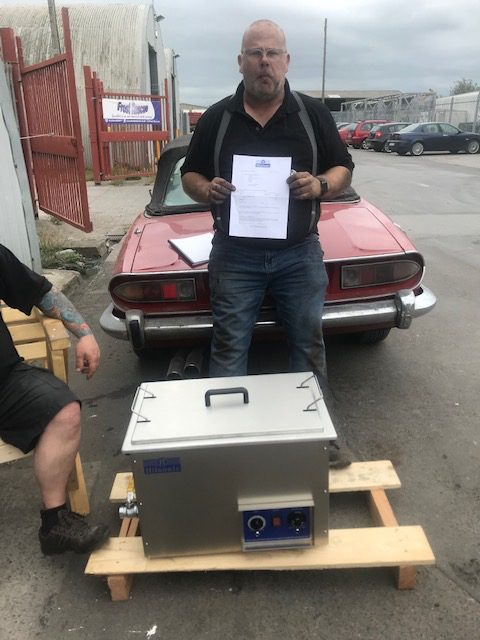 Hilsonic's ultrasonic cleaner arrives with the mechanics at Rusty Road 2 Recovery