Innovative
technologies
that deliver exceptional results
Robust, powerful generators and transducers with a reputation for engineering excellence, superior performance and long life.
Hilsonic generators
Our robust and powerful generators are available with a choice of standard frequency, frequency sweep or bar frequency modes, offering a wide selection of cavitational intensities to suit different forms of cleaning.
A key feature of the generators is our frequency sweep, which moves the cavitation bubbles up and down the item to be cleaned at the astonishing rate of one hundred times per second, ensuring that no area gets too much or too little cavitation. With their highly efficient energy transfer, the generators require no forced air cooling, which means that all of their energy goes directly into the transducers.
The generators include versions that are totally sealed from harsh environments, either in the atmosphere or as a result of 'dirty' power supplies. This ensures uninterrupted performance, even with power spikes of up to 2500 volts.
In addition, the standard Hilsonic generators feature ES environmental cooling. This system dispenses with fan assisted forms of cooling which suck in pollution from the outside atmosphere. As a result, there is considerably less risk of generator failure.
Finally, each generator has its own, independent output indicator, making it easy to detect and isolate defective performance and to reduce machine down time.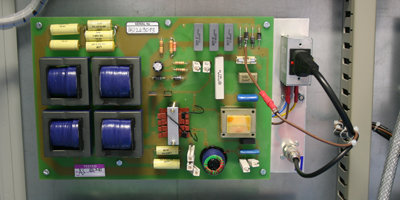 ---
Hilsonic transducers
Our machines are constructed using ultrasound 'bar' transducers as opposed to conventional 'cone' transducers. These have a 50% greater contact area with the outside surface of the tank. This factor substantially reduces the risk of 'hot spot' erosion and stress cracks to the metal surface and provides more uniform cleaning.
The Hilsonic transducer bar is not just bonded to the tank, but has a unique centre-bolt mechanical fixing to ensure long lasting adhesion.
Our transducers are made of high quality phosphor-bronze/silver construction in order to minimise heat build up, thus extending the life of the transducers and piezo electric crystals.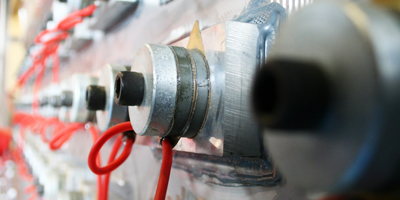 5-YEAR GUARANTEE
We are so confident of the quality of our transducer assemblies, the most vital components in any ultrasonic machine, that we cover the piezo electric components with a 5-year parts guarantee.